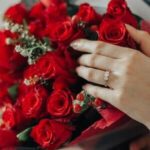 Valentine's day is on Monday Feb 14th.2022, to place your order for premium red roses call flowers on 1st at 604-558-0303, we deliver seven days a week to the Vancouver area, UBC, and all local hospitals and hotels in Vancouver BC.
A day to exchange words of love and appreciation.
With Valentine's Day around the corner, call Flowers on 1st to place your order early, we have a limited supply of red roses for this busy day of the year.
https://www.floristvancouver.com/shop/luxury-red-rose-vase/
This very special day of love is a wonderful opportunity to share Valentine's Day gifts, flowers, chocolate and many other gifts, we highly recommend red roses with a free complimentary chocolate, local delivery in the city of Vancouver only.