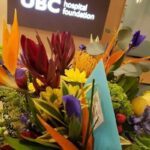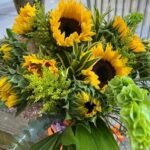 Our Friends in Vancouver-highly recommended by Flowers on 1st in Kitsilano
We deliver to a lot of places in Vancouver, and often find some real gems when visiting. Listed below are some of the most beautiful places in Vancouver for flowers and wedding rental facilities.
UBC Botanical Garden and Center for Plant Research
is located at 6804 SW Marine Drive, Vancouver, BRITISH COLUMBIA, Canada. Open daily 9:30am – 5:00pm. The shop at the entrance to the garden offers many varieties of live plants for sale as well as lots of information. The Shop inside the Garden and Plant Center is operated by the garden's volunteers. Rental Facilities are available for special events with Capacity of up to 100 people. Info line: 604.822.4529
Floral Conservatory & Queen Elizabeth Park is located at 33rd Avenue and Cambie Street in Vancouver. For more information please call 604.257.8584. The Conservatory, with more than 500 plants, is open daily and was designed by the Vancouver Park Board.
Van Dusen Botanical Garden The garden is located in the heart of Vancouver BC at 5251 Oak Street at 37th Ave, between Oak & Granville Streets. The botanical garden offers some of the most uniquely spectacular settings for your outdoor wedding in Vancouver, For more information please contact 604.257.6915.
Our Friends:
Kitsilano Farmers Market
Granville Island Farmers Market
Kerrisdale Village Farmers Market
Kerrisdale Village's Carnival Days
Chan Centre for Performing Arts
Langara Campus
Museum of Vancouver
Tradex-
Vancouver Convention Centre
UBC Farm Farmers' Market
FTD and FTD Canada
Teleflora Canada
1-800-Flowers
Community Kollel
Whole Foods Market Kitsilano
Kitsilano Community Centre
https://www.flowershopnetwork.com
WeLoveFlorists.com
United Flower Growers-Burnaby BC
Kitsilano Public Library at 2425 MacDonald Street
Kitsilano Fitness Center 
https://slowflowers.com
Uber Eats
Balloon Studio
Holiday Inn Vancouver center
Holiday Inn Downtown
Choices Market
Granville Island Hotel
https://www.flowershopnetwork.com