Lion's Gate Hospital
is the largest hospital on the north shore, located at 231 15th St E, North Vancouver. The hospital has 268 beds, seven operating rooms, and a variety of diagnostic medical services including a large emergency ward, Radiology dept. Maternity ward, 270 beds and seven operating rooms.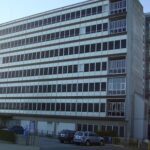 Other services provided by Lion's Gate Hospital in North Vancouver: Primary care, Community-based residential and home health care, Addiction services, mental health, Public health, Hospital care, Research Lions Gate hospital on the north shore of lower mainland BC is a part of the Vancouver Coastal Health Lions Gate Hospital Foundation, Commitments: To rise funds responsibly and respectfully for the enrichment of health care services on the North Shore For Delivery of flowers, get well arrangements, Balloons, fruit baskets to Lion's Gate hospital in North Vancouver BC call Flowers on 1
st
, your local
florist
at 604-558-0303 Other local florists with delivery service to Lions Gate Hospital are posted at Yellowpages.ca Not sure what to send to the hospital for a dear friend or family member, our staff at Vancouver Florist can help recommend the right gift or product for the right occasion, call flowers on 1st anytime.