PHONE ORDERS 604-558-0303
All fresh flower deliveries are now suspended due to the CORONAVIRUS. We still might be able to deliver balloons/chocolates/gift baskets/Birthday cakes/cupcakes to private residences only, no business addresses, no hospitals, no care homes/nursing, airport etc. DELIVERIES ONLY, NO CASH AND CARY.
Cut Tulips Bouquet
Cut Tulips Bouquet cello wrap, decorative greens and complimentary chocolate.
Cut Tulips Bouquet, multi colors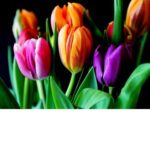 Related products