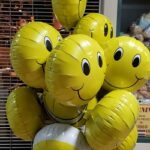 Blackmore Pavilion VGH, the name of this ward at VGH has been changed from Centennial pavilion just a few years ago. This is one of the older sections of the hospital with 10 floors of surgical wards as well as administration offices and the VGH foundation offices.
Flowers on 1st is a local flower shop located in Vancouver just minutes away from the Vancouver general hospital, we offer same day delivery of get well flowers, balloons and chocolates to all areas of the hospital. to place your floral order for a staff member or a patient please call 604-558-0303
Online order can be placed using our website 24/7, just keep in mind that some areas of the hospital like emergency dept and ICU might not accept fresh flowers or live plants.
Vancouver General Hospital is the largest hospital in BC and is affiliated with UBC faculty of medicine and the UBC Hospital.