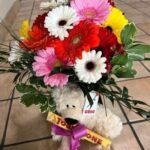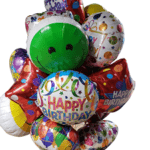 BC children's Hospital is the largest hospital for kids in British Columbia. Vancouver florist is located near BC Children's Hospital, this Kitsilano local florist offering daily deliveries of flowers, Balloons, Teddy Bears and Belgian chocolates to all floors and departments of BC Children's Hospital in Vancouver BC Canada. Please note that ICU and or Emergency might not be accepting fresh flowers, latex balloons or live plants. feel free to call us directly in Vancouver at 604-558-0303.
We offer same day delivery of flowers, balloons and chocolate baskets to Ronald McDonald House, GF Strong and Easter Seals House.
Florist in Vancouver deliver flowers and balloons daily to Children Hospital balloons, cupcakes, Birthday Cakes, plush toys, flowers, roses, gift baskets and many more items. delivery is available every day of the week in Vancouver BC. Flowers on 1st | Facebook
Women Hospital Operator at 604 875-2424 to connect with the ward or find out about visiting hours at BC Women hospital.
Hotels nearby:
Howard Johnson Plaza Hotel, Accent Inns – Vancouver Airport, Executive Airport Plaza Hotel & Conference Center
Sunny Hill Health Center for Children is managed by BC Women's hospital in Vancouver.
Sunny Hill Health Centre at BC Children's Hospital, The Sunny Hill Health Centre has moved  into a state-of-the-art facility at the BC Children's Hospital in Vancouver.
BC​ Children​'​​s Hospital and Sunny Hill Health Centre-A pediatric rehabilitation and developmental services facility is now located within the Children's hospital grounds.
4500 Oak Street
Vancouver BC V6H 3N1​
Phone: 604-875-2345
BC Children's Hospital Foundation- All donations are welcome.
938 West 28th Avenue Vancouver BC V5Z 4H4
Phone: 604-875-2444
The Teck Acute Care Center is located in the new wing building, organic part of Children's hospital in Vancouver BC. The hospital is wheelchair accessible
Please be advised about COVID-19 new restrictions at local hospitals including children hospital and women's hospital in Vancouver